The summer season is coming to an end, and leaves are falling. As we say goodbye to the sandy beaches and cold ice creams, we say hello to the pumpkin-spiced latte, romantic movies, and cold breeze.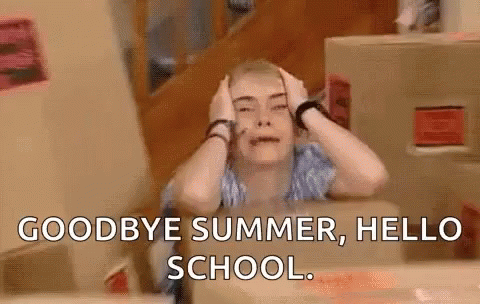 Enters October, Halloween, and spooky tales are emerging, but there's something scarier than ghosts: Schools and Universities are starting this fall. Students are less enthusiastic about studying but are excited to reunite with their friends, while parents are anxious about school supplies and school/college tuition. Either way, the school season is inevitable, and marketers have been waiting for it to come so they can capitalize on the momentum. However, since back to school is targeted at a niche demographic, business owners might feel challenged on how to create targeted campaigns that achieve success during the school period.
Challenge accepted
As a business owner who wants to get the most out of the school season and deliver superb goodies to all students, there are essential steps you need to take to gain success and the trust of many parents and students.
But before we dive into the ways you can use loyalty apps to boost sales, here are some statistics to help you see customer's shopping behavior
1- 58% of consumers say they'd rather shop online, compared to 42% who would rather shop in-store
2- Financial incentives, such as coupons and discounts, are now the second highest driver to purchase, and this has increased from 35% to 41% since 2015.
3- Among consumers who have visited a brand's web store in the last month, just 18% would be more likely to buy a product if they get access to exclusive content or services. However, among those who had visited a brand's app store, this rises to 27%.

These statistics show the rise in online purchase behavior from customers, which is good news for you. So, how can you use loyalty apps during the back-to-school season to drive more sales?
1 . Use timing to your advantage
According to Google Trends data, interested buyers began their search as early as the first week of July and continued until late August and early September. So start planning your marketing strategy meticulously.
June is the month for preparing strategies.
July is the month for executing the soft promotion.
August is the month for monitoring your sales and marketing processes.
Last but not least, September.
It is a very critical time because it's only a month away from school and panic buying is at an all-time high.
Last-minute shoppers are not to be ignored. Just keep on driving the back-to-school promotions by mid-September to get their attention.
2. Make Loyalty App Easy to Navigate
The back-to-school season is short, yet it can be profitable if appropriately capitalized. As mentioned above, September is the month for last-minute shoppers, which surprisingly represent a large percentage of people. So when it comes to loyalty apps, people don't have the time to go on a search for every product. The solution to their problem is to make the app easier to navigate—place ads and the school supply sections in a visible place.
It's essential to add that the key to making customers feel valued and increasing loyalty is to create a personalized shopping experience.
3- Use Data Collected to Create Tailored Ads
One of the many pros of loyalty apps is the data analytics feature which collects all users' purchases while using the app. This feature allows you to look closely at previous years' best sellers and users' reviews. From here, you can tailor ads specifically for these products and make pop-up notifications and designs that will make it easier for customers to buy.
4- Make Offers and Promotions
Customers that have downloaded loyalty apps are more interested in discounts and offers that are beneficial to their demands. Customers will not purchase any products based on the mere existence of a discount, so if we are addressing parents, the deal must be appropriate to their current demand, AKA school supplies.
Parents everywhere are struggling to shop for valuable school supplies that contain good quality as they don't know where to shop and are in doubt about purchasing the products because of their prices. Use a loyalty program to reward shoppers with points on purchases to remove any skepticism and wariness from parents. Building up points makes customers more likely to return.
5- Offer Free Shipping
Circling back to the late shoppers mentioned three points ago, parents are racing time shopping for supplies. Aside from special back-to-school sections and tailored ads, they also don't want the hassle of going to the physical store. Use their need for speed by offering free shipping, that way, you get more parents eager to buy from you, and they will tell their friends about it, which leads to WOM marketing and a boost in sales.
Conclusion
Every school season is tiring for all. Parents, students, teachers, and even people who graduate are stressed for the younger generation, yet what we should do is provide comfort and care. School is about to be in session, so ensure everyone is prepared. As retailers and owners of loyalty apps, you should provide convenience and accessibility. Be the supportive company that is here to save the day.